I always have hard time looking for the best gift that I could think of for M. I know he is not too choosy as that of other guys — he just accept what I give him. Actually, it is not him being meticulous on the gifts but I; I always make sure that what he will be receiving from me is the best and his first time ever to receive one.
One time, because of me being so conscious on gifts for me, I intentionally look for book for men in the bookstore at the mall. However, upon entering the bookstore and went to the section for love and relationship books, I haven't found one but only this book for men: Men-Opause book by Michael P. Goodman.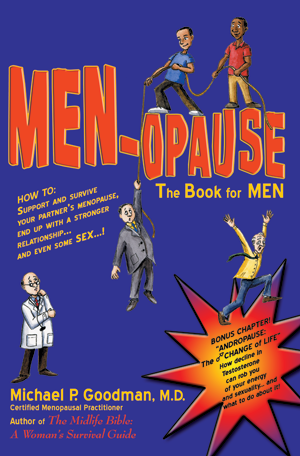 The Book for Men: MEN-OPAUSE by Michael P. Goodman (image source: drmichaelgoodman.com)
Though I haven't read the whole book since it was tightly sealed with a plastic cover, I just read the synapses of it over the internet. And I really found it real helpful in understanding men who are in late adulthood stage and how one should deal with it especially their wives.
After which, I only end up shopping online and looking for famous smoke free shipping stuff for M. Though he didn't smoke, I thought it is one extraordinary cool gift that he could keep. But I didn't buy it yet. I still am considering other stuff also.